This card is no longer available.
USAA Secured Cards® Platinum MasterCard®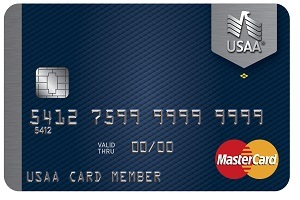 Editor's Rating: 4/5

USAA Bank credit cards are exclusively available to military members, veterans who have honorably served, and their eligible family members.
It's a real credit card that helps you build or improve your credit score.
The card is secured by an interest-earning CD that you establish and is guaranteed to grow.
Your credit can improve when you avoid going over your limit and make payments on time.
Retail and Travel Benefits: Collision damage waiver coverage pays for physical damage and theft to most rental vehicles.
Security: Zero liability coverage for unauthorized transactions if your card is lost or stolen.
Purchase Intro
Purchase APR
Bal. Transfer Intro
Balance Transfer Fee
Credit Needed

APR:

N/A

Period:

9.90% to 19.90%* Variable

APR:

N/A*

Period:

N/A*

Up to 3% ($200 maximum on each balance transfer)
None/Limited History
Editor's Notes
Rebate Description N/A
Card Details
Card Issued By:
USAA
Card Type:
Mastercard
Card Class:
Platinum
Minimum Credit Limit:
$250 min.
Maximum Credit Line:
$5000 max.
General Correspondence Address:
10750 McDermott Freeway
San Antonio,TX
78288-9876
800
Disclaimer:The information in this article is believed to be accurate as of the date it was written. Please keep in mind that credit card offers change frequently. Therefore, we cannot guarantee the accuracy of the information in this article. Reasonable efforts are made to maintain accurate information. See the online credit card application for full terms and conditions on offers and rewards. Please verify all terms and conditions of any credit card prior to applying.
This content is not provided by any company mentioned in this article. Any opinions, analyses, reviews or recommendations expressed here are those of the author's alone, and have not been reviewed, approved or otherwise endorsed by any such company. IndexCreditCards.com does not review every company or every offer available on the market.
---
In the News
"As comprehensive a list as you'll find of all the credit card offers on the table now."
---