This card is no longer available.
PenFed Premium Travel Rewards American Express® Card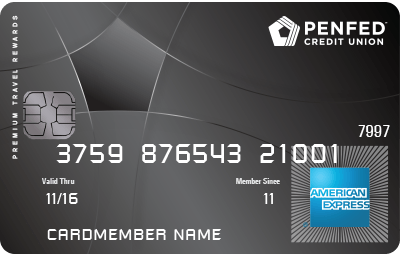 Editor's Rating: 5/5

0% APR promo balance transfer rate for 12 months, now through December 31, 2017. After that, the APR for the unpaid balance and any new balance transfers will be 9.74% to 17.99%. APR will vary with the market based on Prime Rate. 3% balance transfer fee per transaction. Subject to credit approval.
Rate and offers current as of October 1, 2017 and subject to change.
Earn 5 points on airfare purchases.
Earn 1 point on all other purchases
20,000 bonus points when you spend $2,500 within the first 3 months of opening the card account
No annual fee and no foreign transaction fees
No cash advance fee
Rates as low as 9.74% APR
Chip enabled for added security
Federally insured by NCUA
Purchase Intro
Purchase APR
Bal. Transfer Intro
Balance Transfer Fee
Credit Needed

APR:

N/A

Period:

N/A

9.74% to 17.99% when you open your account, based on your creditworthiness.* Your APR will vary with the market based on the Prime Rate. (when you open your account, based on your creditworthiness.* Your APR will vary with the market based on the Prime Rate.)

APR:

0%

Period:

12 months

3% per transaction
Excellent
Editor's Notes
Card Highlights The card is best for eligible members at the Pentagon Federal Credit Union who travel a great deal.
Card Details
Card Issued By:
Pentagon Federal Credit Union
Card Type:
American Express
Card Category:
Credit Card Deals, Low Interest
Card Class:
Platinum
General Correspondence Address:
PO Box 1432
Alexandria,VA
22313
800 247 5626
Disclaimer:The information in this article is believed to be accurate as of the date it was written. Please keep in mind that credit card offers change frequently. Therefore, we cannot guarantee the accuracy of the information in this article. Reasonable efforts are made to maintain accurate information. See the online credit card application for full terms and conditions on offers and rewards. Please verify all terms and conditions of any credit card prior to applying.
This content is not provided by any company mentioned in this article. Any opinions, analyses, reviews or recommendations expressed here are those of the author's alone, and have not been reviewed, approved or otherwise endorsed by any such company. IndexCreditCards.com does not review every company or every offer available on the market.
---
In the News
"As comprehensive a list as you'll find of all the credit card offers on the table now."
---